As much as Donald Trump would like to deny it, climate change is a real problem, caused by the increased levels of carbon dioxide in the atmosphere thanks to our extensive use of fossil fuels, deforestation and our intensive farming methods. These are the key factors causing the greenhouse effect which traps heat, warming the earth up and causing new weather patterns which are affecting animal and human habitats (
www.wwf.org.uk
). We know that this is having a detrimental effect on a myriad of animal species and even humans but what effects will our warmer, wetter planet have on our cultural heritage?
I would like to be able to tell you that these effects are still a few years away and we have time to prepare, but I would be lying. You will have seen the chaos caused by storms in the UK over Christmas and the New Year: in short, climate change is already affecting our historic places.
Strong winds during Storm Frank were responsible for the collapse of the north jetty of Birnbeck Pier in Weston-super-Mare. The Grade II* listed pier is the only one in Britain which leads to an island. Built in 1867, it was closed in 1994 and has been deteriorating ever since. Although it was not unexpected, its sorry state should not be taken as evidence that it was bound to collapse anyway. Hurricane force winds of 120mph battered the coastal town leaving many without power.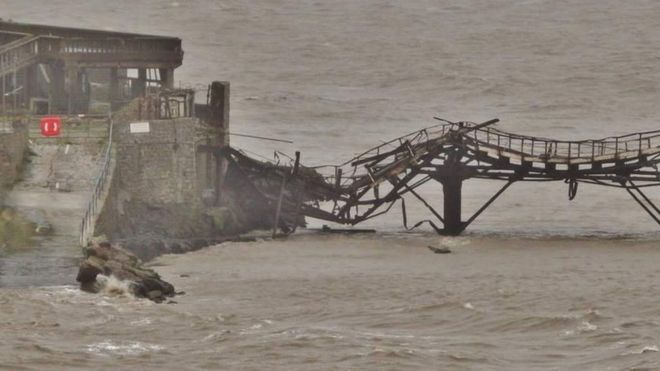 Portion of the collapsed pier (Timmy Curtis, BBC, 2015)
Heavy rain in Scotland led the wall of Category B listed Poosie Nansies pub in Mauchline, Ayrshire to collapse. Listed both for its architectural interest and its associations with Robert Burns, it took 25 firefighters to stop the rest of the building from disintegrating.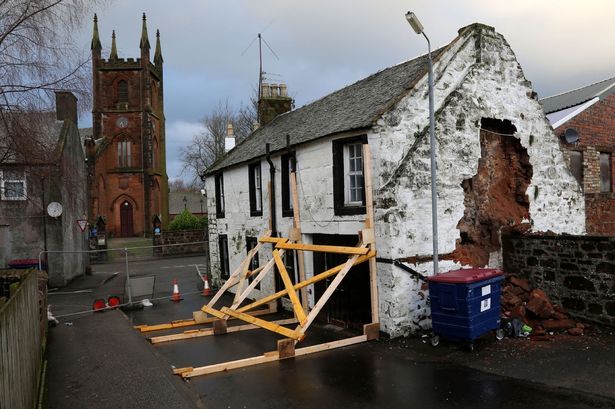 The collapsed wall of the Poosie Nansies pub in Mauchline (Alister Firth, Ayrshire Post, 2015)
The storms also led to extensive flooding and Category A listed Abergeldie Castle in Aberdeenshire (next door to the Queen's Balmoral Estate) nearly fell into the River Dee. Severely elevated water levels eroded the river bank, undercutting the foundations and forcing the Baron of Abergeldie (whose family have owned the estate since 1482) to evacuate. Built around 1550, the distinctive Scottish tower house retains many of its original features but where the river bank was once 60ft distant from the building, it is now just 5ft. Work to shore up the bank is ongoing.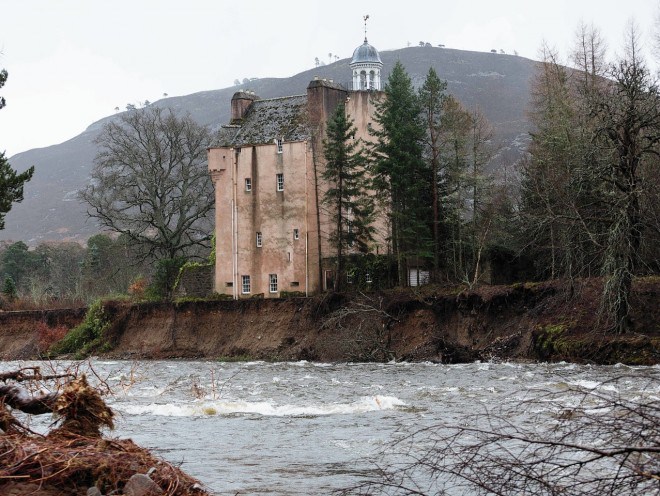 Severely eroded river bank threatens the stability of Abergeldie Castle (Press and Journal, 2016).
Coastal erosion is also a significant heritage issue. Not a new one, but an issue that is certainly getting worse. Grade II listed Cavell Tower on the Dorset coast was saved from falling into the sea in 2006. Although this has had a substantial effect on the building's setting, it was considered to be the only way to save the building from certain collapse. The tower was built in 1830 and had to be moved back from the cliff edge by 25 metres to stop it from toppling over the edge.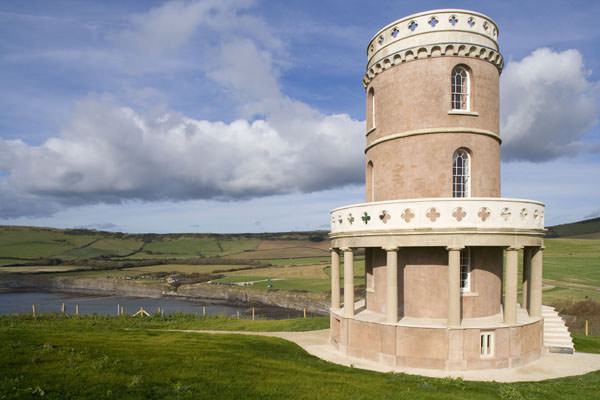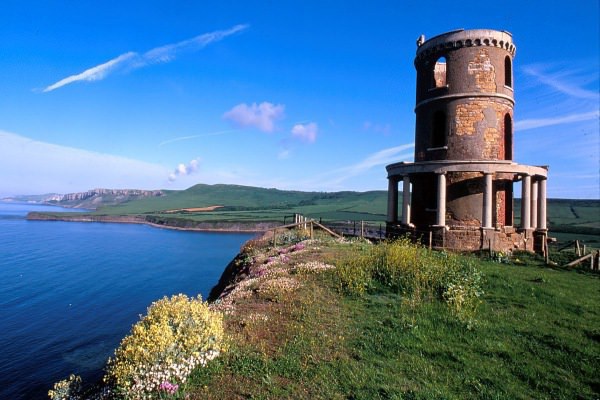 Restored Clavell Tower at a safer distance from the Cliff edge (Landmark Trust, 2016).
The National Trust has warned that this could be the fate of many more of our coastal landmarks, thanks to rising sea levels and the erosion of the coast. St Michael's Mount in Cornwall, Formby's dunes near Liverpool and the entire fishing village of Porthdinllaen in north west Wales are just a handful of the 70 sites that the Trust have identified as being under threat.
Of course these problems aren't confined to the British Isles. Medieval Mårup Church on the Jutland coast of Denmark is on the brink of falling into the sea and was partially dismantled in 2008 to save it from complete destruction. In 1793, the church was 500 metres away from the coast, today it is just nine. Coastal measurements suggest that the rate of erosion is rapidly increasing and many coastal sites in Arctic regions have already been lost, such as the Østterikeren research station on the island of Jan Mayen, built in 1882.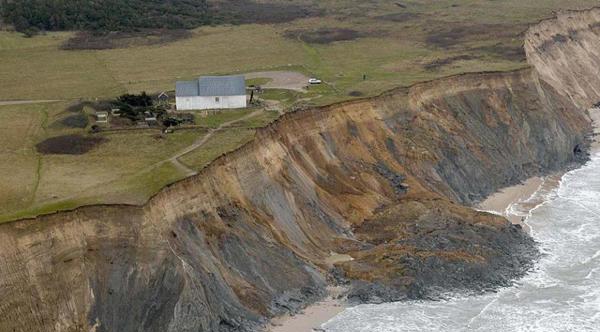 Mårup Church's alarming proximity to the cliff edge (www.gronhoj.dayzresorts.no).
Global warming is also responsible for mudslides in Guatemala that destroyed the ruins of World Heritage Site Quirigura. If that seems too far away to be relevant, Westminster Palace, the Tower of London and Kew Gardens may all have disappeared by 2080 because sea level rise in the Thames Estuary will cause larger, higher tides.

Historic buildings in general will suffer from increased ground level moisture because they are more porous than modern buildings (whc.unesco.org).

Migrating pests could cause new problems for timber structures; flooding causes moisture and evaporation issues such as mould growth and an increase in stormy weather will cause structural damage (whc.unesco.org).

I'm not suggesting that one pub is more important than hundreds of people made homeless by devastating weather conditions, or that a pretty Danish church should take precedence over an entire inhabited village falling into the sea. I just want to point out that climate change has an effect on many different aspects of our lives and it doesn't just mean sunnier summers and warmer, windier winters, it means losing entire species, massive tracts of land and a fair few nice old buildings too.